Welcome back to Typical Tuesday!!!!!!!!!!!
Our first tuesday-er back is Diana Smith. We became e-friends a while ago, can't remember when really. Then later we found out we are kinda related?! So awesome. Now if only her bombshell blonde hair was genetic to us (...I am always jealous of blondes). Well back on track, Diana is a momma of two littles, (one is just a few weeks younger than Maggie) she is a wife to hard working hubby who is doing the whole work+school thing, she is a graphic designer, and basically just the sweetest girl.
Here she is!:
I am Diana Smith! I am a blogger over at
Livy Love
. I have 2 kids, Olivia who is 18 months and Harrison who is almost 2 months. Yes, they are 16 months apart! Very busy, very crazy, and very fun!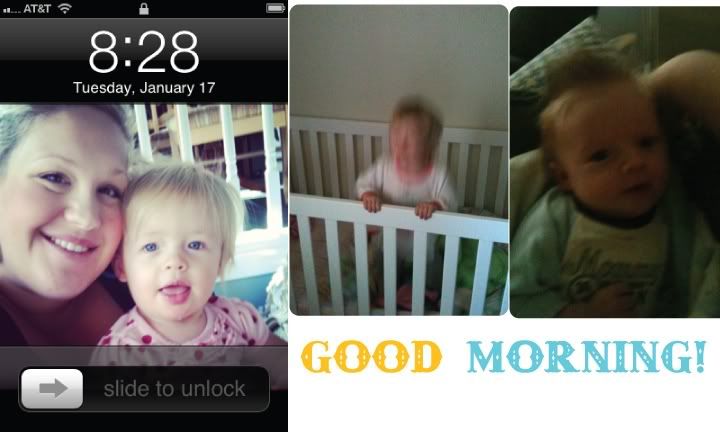 8:28am I wake up abruptly to loud crying from Olivia. My husband, Daniel left work at 5 am. He usually works at 8am, but maybe once or twice a week he has to go in a little bit early. Both of my babies are amazing sleepers so waking up at this time is not a rare occasion! I realize how lucky I am!!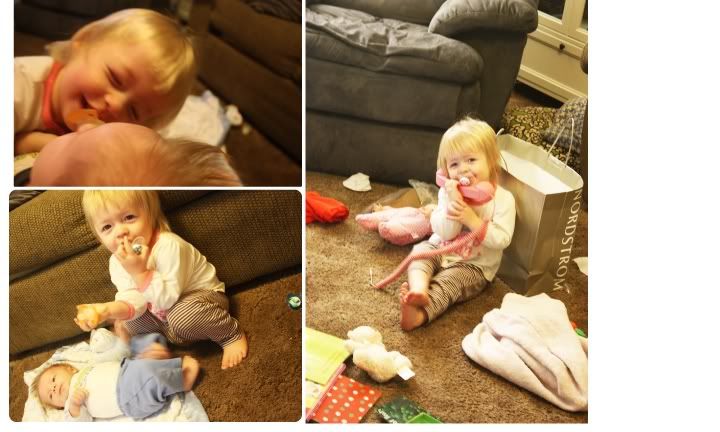 Olivia LOVES seeing Harrison first thing in the morning. Her favorite thing to do is kiss and hug him. Before breakfast, we play with toys and watch some cartoons. This is where I try and completely wake up after the morning rush! It all happens so quickly and sometimes I am not completely awake for it all.
Harrison gets a little fussy. I feed him, change his diaper and outfit and then he falls asleep about an hour later and rocks in his swing. He is a sweet darling boy. I couldn't have been any luckier.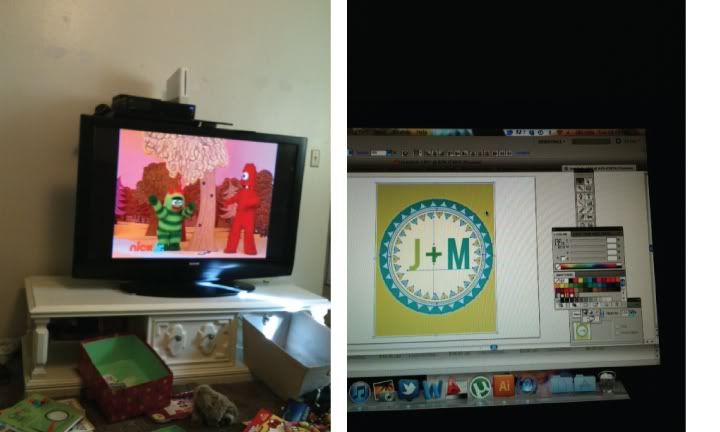 Olivia watches her favorite show, Yo Gabba Gabba. It seriously entrances her. I sneak off and work on a few orders on my computer. I run a small
etsy shop
of graphic design prints. On this particular day, I have been itching to get my art wall done. One great perk about being a graphic designer is I can create any art I want. If I see something that I like, I can make something similar to it.
My wall on the left. Then I come back and Olivia is still watching shows while Harrison still naps. I decide to clean up the toys and the living room.
I vacuum while Olivia has some lunch. Harrison is still napping away!!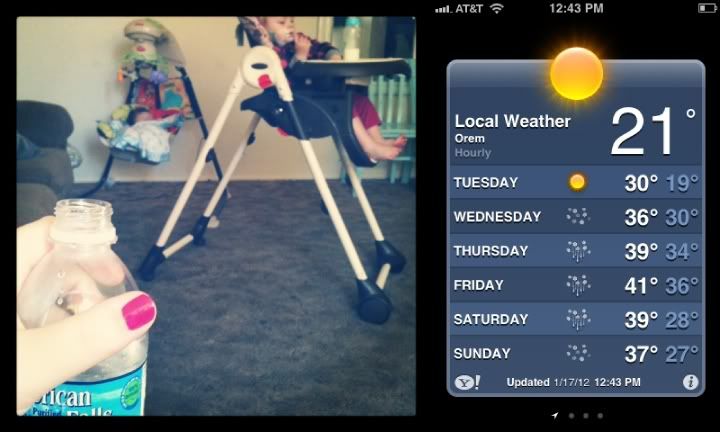 I take a little break from cleaning and check up on my phone (email, twitter, instagram, weather) I thought about taking a little walk, but its pretty freezing here in Utah. Still no snow and this California girl is quite grateful for that!!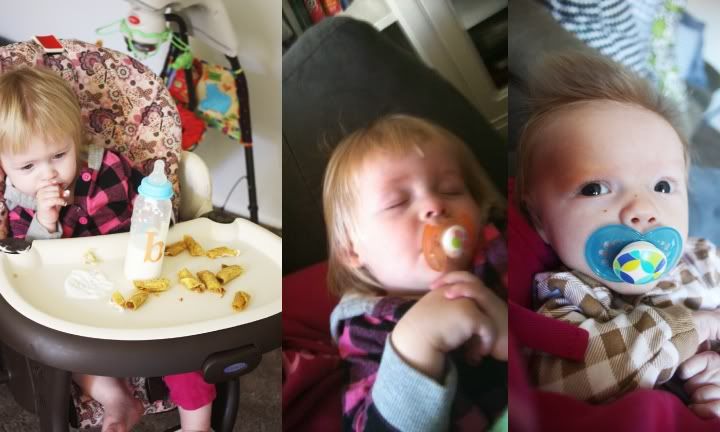 Olivia finishes up her lunch. She takes a nap maybe 3x a week. I don't really enforce it since having Harrison because they both require so much of my attention. She needs to be rocked to sleep and sometimes I can't because Harrison is awake. Luckily though, she wanted one and he was still asleep. Once she fell asleep, he woke up! Isn't that how it always works? Oh the irony!
I feed him and change his diaper. He just hangs out on my lap! Such a good baby.
Daniel and I were asked to speak in church on Sunday so I go over the topic and start to think about how I want to approach the topic. Harrison still snuggles me and just is happy as a clam.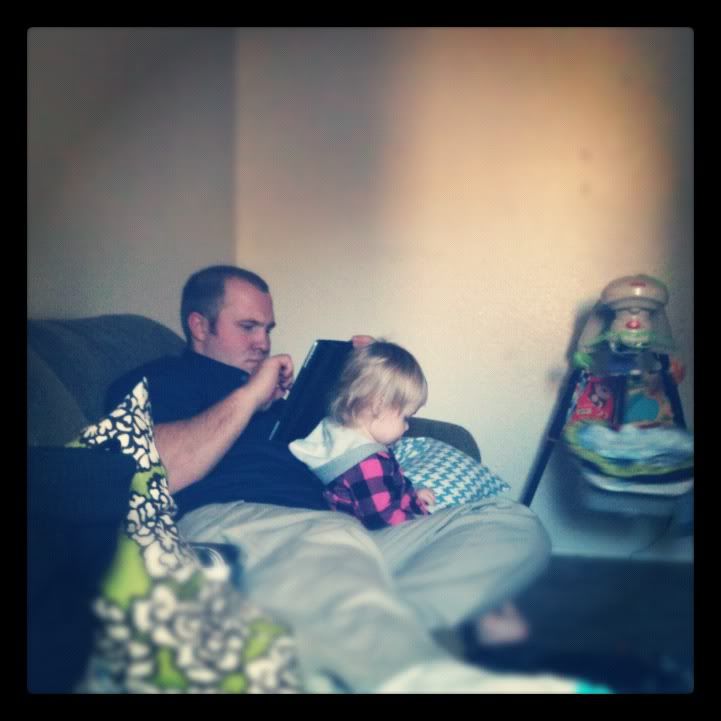 Olivia wakes up from her hour nap. Daniel comes home from work. It's about 4pm. He catches up on some reading for his classes. He has class Tuesdays and Thursdays from 5:30-8:45. We were lucky he was able to come home before work. Sometimes he has to rush off to school. Those are rough days being the only one home with the kids all day. Plus I know it's sad when he can't see them.
He leaves for class. Harrison takes another nap in his swing. I feed dinner to Olivia. I didn't take a picture, whoops! I bathe her and we brush our teeth and get ready for bed. She usually goes to bed around 8. Harrison goes to bed around 10. Then I usually stay up and finish any work I have on the computer or watch TV (Teen mom on this particular night)
We are super busy and always on the go! There is always a diaper to change, a mouth to feed, a boo boo to kiss and a hug to give. It really is so much fun being these two sweet babies mom. I am so lucky to raise them and call them mine. I can't imagine a life without my wonderful sweet family and don't know what I did to have them in my life. As mundane as this is, this is our daily routine and I am glad I get to share this all with you!
Thanks Diana!
Wanna share a typical tuesday with us?
Come on, you know you want to.
Just email me, k?
(rachel . meynders @ gmail . com)